Rev Cup- Battle of The States
Finally got to find some time to blog after a busy week! Anyhow, today I will have some good news for you guys.
Lately, I got to know a cool contest from Advertlets regarding Rev Cup – Battle of the States from Revive. Checked out the Facebook applications
(
http://apps.facebook.com/revivecup
)
and found out numerous of photo entries on a particular theme which require you to pose or snap a picture of yourself levitating, urban surfing, power slide and so on.
Photos submission will be judged by Rev-erees and Blue card, 5 points will be given if it's a good picture which met the criteria. Red Card and No points will be given if it's not up to requirements. 50 50? You'll be given a yellow card for the effort which worth only 1 point.
On top of that, you may be able to contribute points to your own state as well as it's more like a teamwork system. State which has the highest points will have extra 1 point to be contributed to the following week. However, if you're known as the Most Rev Up State with da most points, a party will be thrown to you which Revive will be announcing the winners category and Grand prize winner in the honor of your state!
I was checking out those DJ's videos submission. What I can say that it was pretty much hilarious and entertaining. Especially the one from Jin and Aznil.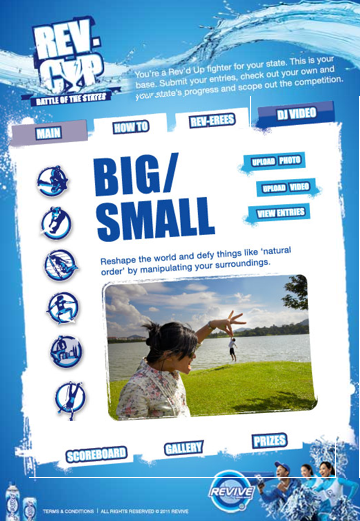 Anyhow, It's not too late to join. This week theme will be "Big Small" you can browse through some photos submission at the Gallery section on the Revive FB application. Here are some examples to refer as well.
I will be trying my luck this week. I wonder how creative I can be in doing a "BIG SMALL" photo submission? Stay tuned to find out!