I dreamt yesterday that i DNF in
Desaru
. My bike had 4 puntures and i only had 2 spare tubes. By the time i pushed my bike to the
transition
area,
Mr. Chan
has already declared that the race was over and i can't continue with my 21km run.
Then, because i couldn't do my 21km run, i found myself transported to the rugby field, playing
number 8
, a position i never play before and found myself not scoring any tries despite coming 30cm to the touch line many many times.
It might be because i forgot to recite the prayer after watching CSI yesterday night...
O God please help me to win for i always want to win,
But if in thy inscrutable wisdom thou willest me not to win...
An accident just happened near my office. A brand new Toyota Wish with no number plate or roadtax crashed into a Nissan Sentra. Both were loser, but the Wish being the bigger one. Apparently the Wish was driven by an accessories shop worker, must be on it's way to get the car
accessorised
.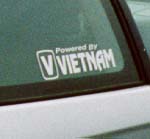 that's 50 horses extra with this sticker...
Must be dumbass drivers driving...as you all know, Damansara Perdana's traffic setup is really bad. No one actually follwo the one way or two ways...everyone follow NO WAYs and this is just one instance where accidents are waiting to happen. I can only smile as i walk past them confused looking blokes, with ego still big enough to blame each other, where both were clearly on the wrong.
I had my hair re-styled today. All for RM10!!! This new barber knows what i really want...PLUS a back massage!
See all of you next week. Stay tune and don't touch that dial!