No Thanks to
Desparil
, i got tagged. I've missed out on a few previously (one from
Dr.M
- Sorry bro!) and i guess before i felt more sorry than anything else, i better get this done.
The whole tagging system goes like this...(if i may qoute from Desparil's blog)
1. Go to Pop Culture Madness site.

2. Pick the year you turn 18 years old.

3. Get yourself nostalgic over the songs that year.

4. Write something about how those songs affected you.

5. Pass it on to five more friends.
Funny how it seems that i could relate more to the songs in 1993 than 1994(the year i turned 18), but since the rules says that it must be the year i turn 18, so be it!
OK, here goes, in no particular preferences...
I Swear - All-4-One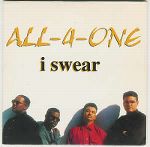 I swear by the moon and the stars in the skies
And I swear like the shadow that's by your side
Stupe Says
: This is like the staple song of the year. I admit i has a single of this song. Perhaps it appeals to me because of the corny lyrics. Swearing to the Moon and Stars isn't exactly gonna go anywhere...they don't understand and your words don't need to be honoured!
On Bended Knees - Boys-II-Men
Can we go back to the days
Our love was strong.
Can you tell me how
A perfect love goes wrong.
Can somebody tell me
How to get things back,
The way they used to be.
Oh God, give me the reason,
I'm down on bended knee.
Stupe Says
: Don't tell me you did not sing to this song ok! How can?! Anyway, this brought back memories la, in one way more than the other.
Here Comes The Hotstepper - Ini Kamoze
No no we don't die, yes we mul-ti-ply
Anyone test will hear the fat lady sing
Act like you know, Rico
I know what Bo don't know
Touch them up and go, uh-oh!
Ch-ch-chang chang
Stupe Says
: I love this song because I can't dance, and this song make me move my two left feet.
All For Love - Bryan Adams, Sting and Rod Stewart
Let's make it all for one and all for love.
Let the one you hold be the one you want,
the one you need,
'cause when it's all for onee it's one for all.
When there's someone that should know
then just let your feelings show
and make it all for one and all for love.
Stupe Says
: Admit it, you've seen the movie more than once and like it or not, these 3 men with coarse voice which sounded like they need tonnes of Strepsils and lozenges to ease those pain in the throat, rocks.
Without You - Mariah Carey
Well I can't forget this evening
Or your face as you were leaving
But I guess that's just the way
The story goes
You always smile but in your eyes
Your sorrow shows
Yes it shows
Stupe Says
: The only reason why i like this song was because Air Supply sang this before her in 1991. I dig Air Supply ok!
The Most Beautiful Girl In The World - Prince
Could u be the most beautiful girl in the world?
Its plain 2 see ure the reason that God made a girl
When the day turns into the last day of all time
I can say I hope u are in these arms of mine
And when the night falls before that day I will cry
I will cry tears of joy cuz after u all one can do is die, oh
Stupe Says
: Way before he was reduced to a Symbol as his name and way before he was "The artist Formerly Known as Prince", he was simply known as Prince. And he looked as if he could tear Michael Jackson apart when they jammed with James Brown back in the 80's. Well, at least he only changes his name where else MJ changed almost everything except his name.
Baby I Love Your Way
Moon appears to shine and light the sky
With the help of some fireflies
I wonder how they have the power shine shine shine
I can see them under the pines
But don't hesitate 'cause your love won't wait hey
Ooh baby I love your way every day
Wanna tell you I love your way every day
Wanna be with you night and day uh yeah
Stupe Says
: OKOK, by now you all would know i'm some mushy romantics. But who could resist the reggae like song such as this? I'm a big fan of UB40 ok! This song is still in my play list until today!
So, there you have it. I'm not gonna tag anyone as there is only that much pop songs to go around!
Have a great weekend y'all!