On Labour day, my parents and my 2 sisters went down to Melaka for some outing. The inital plan is to be at Melaka to go to the temple at Temple Street as it was Wesak Day afterall.
Now, tell me, how is anyone that goes to Melaka not eat anything there?
My dad is a full time vegetarian, so, he can't eat anything. Well, that was what i thought until i found out later that he had like 5 servings of cendol to make up the Assam laksa, Nyoya Laksa, Baba Laksa and sate celup he can't get to eat.
So, since me, wifey and Ryan is back in KL that day, they decided to buy a packet of Sate Celup's sauce to let me and wife taste.
My mum call Sate Celup as Sate Telur and my dad call it Sate Cerut. Don't ask me how this come about.
Fu Yoh...
Mum bought prawns and cuttlefish, some meatball, quill eggs, seafood tofu, some seafood fishcakes and some dim sum looking ball with crab stick on top. Dad bought some Yau Char Kuey and i got some extra Sate Kajang and Nasi Impit(which my dad could eat with the peanut sauce).
Sate Celup -The Lim Style
Dad had the first right to anything before we contaminate the sauce with things which aren't vegetarian. So, he brought along his vegetarian meat and had a feast himself.
Sate Kajang but he can't eat them...
Mum also cooked the home made noodle in clear broth which we hokkien knows as Loh Mee (the Penang version has dark sauce). The noodle is pressed and made using a huge rubber roller; a roller which the olden days people used to press rubber!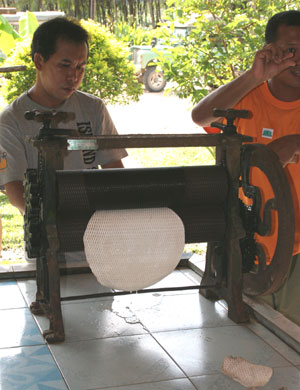 Have you seen anyone making noodles from these????
I will take pic of that rubber roller which is at my granma's place...
Loh Mee in Chicken Broth
Nothing beats home cooked food!